Preparing your Black Friday Email Marketing.
According to Forbes, in 2021 Black Friday was worth 8.9 billion in sales. However, 2021 was a lifetime ago. In 2022, you've got the first ever Christmas World Cup, a lot is going on, and people are feeling the pinch.
The first big question you might not have considered when planning your Black Friday email marketing is a big one – is Black Friday right for your business?
Black Friday, Black Week, Cyber Sale week, whatever you decide to call it, it's a special deal, discounting frenzy. It seems that the thing to do, follow the lead of others rather than do something a bit special and stand out.
Of course the customers expect this to happen, and that impacts behaviour. Why would I buy on a Tuesday when the sign in the window says it's going to be cheaper a few days later?
It's a cyber distraction. Black Friday started as a flash sale. It was never expected to become 'the retail' event. A flash sale is best when it's just that, a flash. Unexpected. A grab it while you can phenomenon.
A backlash against Black Friday has occurred in the past and got some traction- #nodimeday, but Black Friday is now a strong 'brand' in itself. So if you are "in business" (that means B2B as well as B2C) then Black Friday is a marketing event to take advantage of. You need a Black Friday Email Marketing plan in place.
Black Friday Email Marketing, the inbox event of the year
One thing, Black Friday does prove is the importance of email marketing. It works, and it's the direct channel to your customers.
Black Friday email marketing is the inbox event of the year. But unfortunately it's competitive, and people's inboxes will be noisy.
Yes, you'll have the messages you want from those trusted brands, you'll also have messages from those you hardly hear from. Your inbox will have it's busiest time of the year. So you need to make sure you've got something compelling to say or why bother?
In fact, that might be an approach in itself. Why not go early or make your own marketing event. After all Black Friday was a marketing invention in the first place.
Make customers for life not just for Black Friday
An old advert by the RSPCA in the UK had the slogan, 'A dog is for life, not just for Christmas'. The same is true of your email marketing.
If you are sending an ad-hoc message to 'shake some sales' from an inactive audience. Yes, you might get a bit of success, but it's a million miles away from a business that uses email marketing to its full potential with a planned data-driven email programme.
Get the best results – Segment your black friday email marketing
For your Black Friday email marketing planning remember your audience is made up of different people, yes, they have a shared interest in that they have consented to receive marketing from you, but they also fit into different segments. Understanding those segments, makes it easier to design relevant campaigns and improve your email marketing results.
At Websand, our approach to email marketing is people focused rather than lists. Our platform helps marketers to understand what behaviour people have and have not taken in their relationship with your business.
This is the most important information you have in your business. Who buys what and when. Understanding that information not only makes your email marketing more impactful and successful, it also makes it much easier to unlock where you have the potential to grow.
When mentioning data, it's easy to fall into the 'big data' trap. You don't need to track everything. And you shouldn't track everything. That's not only a principle of GDPR, it also makes common sense. You only need to collect the important stuff, the data that you need and is acceptable to your audience.
We 100% believe that you should operate under a principle of data minimalisation. That is, every single piece of information you collect from your audience should be expected, relevant and add value. If you don't need the data, don't request the data.
Black Friday Email Marketing to your VIP customers
According to the Pareto Principle, 80% of your revenue is coming from 20% of your customers. If you are running a growing e-commerce business it can be difficult to understand who those people are. Websand uses your spend data to automatically identify your VIP customers for you.
Taking the data headache away from your business, and allowing you to spend your time focusing on building that relationship with those special people that really power your business.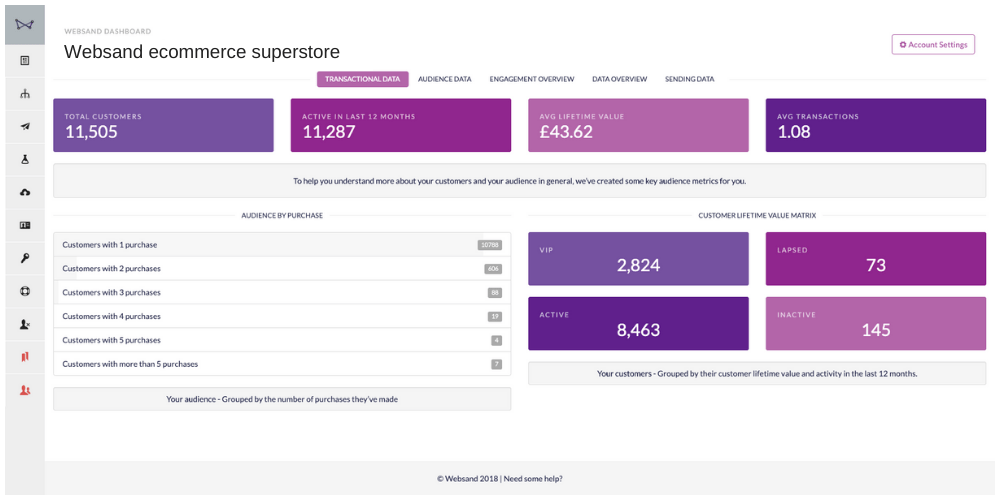 Black Friday Email Marketing to one time customers.
I assume you spend a lot of your time, energy and marketing budget on acquiring new customers. PPC, SEO, Press, Print, all the channels tend to be focused on the new.
Consider the image above, that is typical of e-commerce businesses. The drop off of people that spend once, vs returning to spend again is anywhere between 90%-70%. That's a significant drop-off, and a huge opportunity for growth.
Websand can dynamically segment your audience with just a few clicks. So you've got the data for the 5,563 people in the dashboard (who have only bought once) organised and ready for you to communicate with.
An increase in your second sale conversion by just a few % can make a huge difference to your profits. A nice targeted Black Friday Email Marketing campaign could do just the trick to move those numbers upward.
So could you offer a unique Black Friday campaign for those people who have only bought from you the once? Give them something unique to lock in that relationship?
Just looking thanks. People that haven't bought yet
We've mentioned the VIP's (the 20% of your audience that give you 80% of your revenue). The stalled people, the customers who have only bought once. Now let's focus on the new folk. Those people who have shared some of their precious data, told you they are interested but not actually done anything as yet?
Firstly, how do you communicate with them? The same way as everyone else, or do you offer them something 'unique' to encourage them to make that first sale.
Secondly, are all of them new? How many of them have been signed up for ages and not actually bought.
The same Black Friday email marketing for everyone?
Is your Black Friday Email marketing plan to send the same deals for everyone? A moving from irregular sending, to a full weekend of hammering deals and offers. If you are moving from 'not sending much' to 'sending to everyone a lot'. The chances are you will run into some issues with email deliverability. This unexpected boost in frequency can cause a bit of a shock to the inbox bouncers and they could downgrade your reputation as a result.
Why not take the opportunity to focus on those who are already engaged with you to start with and then widen the process. That way the people that love what you do, get the first look, before those 'rainy day signups' the percentage of your audience that showed some interest by signing up but never really did anything.
Use Black Friday as a turning point for your email marketing
So don't just turn on your email marketing for Black Friday or a boring newsletter. Make email marketing a key part of your marketing plan. You collect customer data every day you are in business, but perhaps you aren't using this information to understand more about your customers.
How much they spend.
How often they spend.
What they buy.
When was the last time they engaged with your marketing
Use this understanding to stimulate some creativity. Try different messages to different groups within your audience with your email marketing messages. Then take this learning and create a marketing process that links directly to the activity of your customers.
Some call that being customer-centric. We think it's just a smarter way of doing business, use the information you already hold to get closer to your customers and build loyalty.
It might sound complicated, but if you are already selling online, you've done the hard yards and you've got all the raw ingredients. We can help you to turn these ingredients into something special.
Getting started is easy and we work with all kinds of e-commerce businesses, selling everything from Onesies to artisan chocolate. Websand is a Zapier partner and we connect with all the major e-commerce platforms, Shopify, Magento, and WooCommerce.
If you'd like to join the growing number of e-commerce businesses that are reaping the rewards of a data-driven approach to their email marketing, get in touch or book some time on the calendar below below.