Grow your eCommerce store with customer focused email marketing
Let Websand's dynamic segmentation handle your data management, so you can focus on creating targeted email messages that will supercharge your email marketing and boost your revenue.
Sign up and together, we'll show you how it's done.
Three easy steps to customer retention
You've worked so hard to gain your customers. Let's keep them coming back for more.
Data at your fingertips
Data-wrangling made easy. No more drowning in complicated spreadsheets. Bring your transaction data into Websand for instant clear visuals on your customers' behaviour.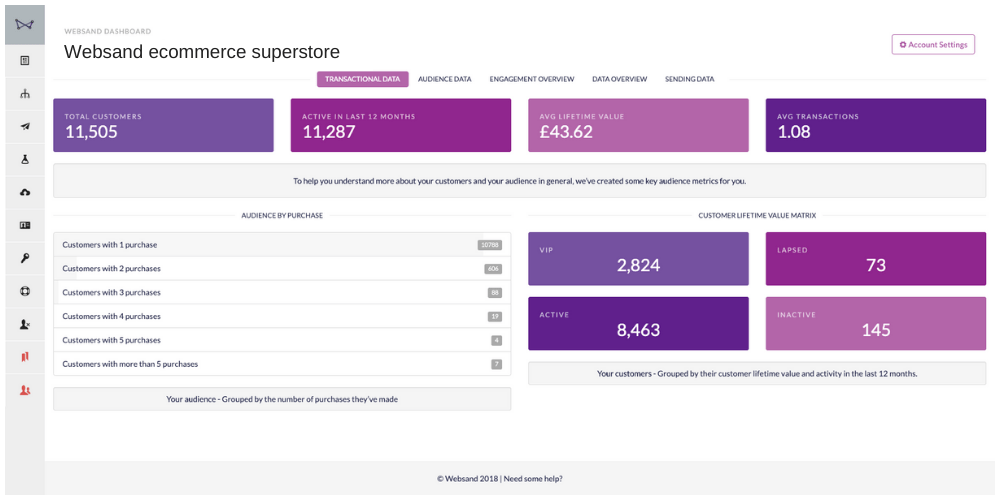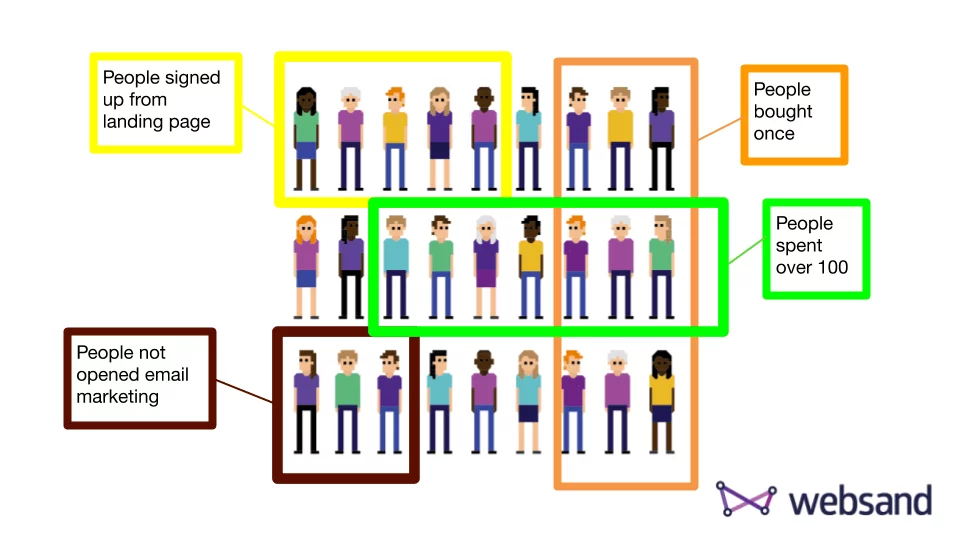 Dynamic segmentation
Unlock the value of your customer data with segmentation that automatically updates, showing you which customers are most valuable to your business.
Simple communication
Set up beautiful, engaging emails using the drag-and-drop editor. Send your customers the right message at the right time and make your life easier with email automation.
Why choose Websand for email marketing?
"The whole experience from end-to-end is more personal. Websand quickly understood our brand and the support we receive is second to none. We never had this understanding, flexibility and support with Mailchimp. To have someone on the end of the phone, email and/or SMS, makes a huge difference to their overall level of service"
Jon Hutchings, Head of Ecommerce at 304 Clothing
Convert your email marketing to Websand
Start sending targeted, personalised email marketing in minutes
Increased profits
Move to customer focused marketing increase customer spending by 25%
Save time
Let dynamic segmentation and automation do the heavy lifting – rinse and repeat!
Smarter acquisition
Feed customer insights into paid acquisition marketing for improved results
Valuable insights
Clearly understand who buys what, how often and how much they spend
Personal support
Ongoing one-to-one support to get the best from your email marketing
GDPR compliance
Let dynamic segmentation and automation do the heavy lifting – rinse and repeat!
Marketing CRM that's a perfect fit for e-commerce, leisure and hospitality
Use Websand Marketing CRM to really understand your data, to make your email marketing targeted and so much more effective. But email marketing needs data, that's why we've built Websand to integrate your existing systems, and we are standing by to help you migrate
Websand connects with 1000's of other systems too
We think of integration as business lego. Integrations need to be flexible but simple to apply. Connect with no code using our Zapier integration and select from 1000's of preset integrations to other e-commerce, CRM, or business platforms.
Or ask your dev team to connect through your own integration to our REST API
Check out some highlights from the Websand blog
It's time to start getting more from your email marketing
Sign up for a free Websand demo and let's show you how to get the best from your email marketing.