Introducing Websand. The easy way to Create Marketing Automation
We've designed Websand to make it easy for e-commerce marketing managers to create marketing automation.
Simple and rapid set-up, with stunning results.
No three-day training programmes required, simply design your message, create your segment and connect the two in the automation screen. Make the automation active and that's your marketing automation in play. Simple.
Getting started with marketing automation
Websand gives you the tools to create marketing automation based on the behaviour of your audience. Marketing that is powerful and responsive rather than scheduled weekly boosts from newsletters. Email marketing automation gives a regular daily flow of marketing activity.
And it works. Really works.
The responses from automation are typically 3x the level of a normal email campaign.
This page lists (and directs you to) the elements that you need to deliver a successful marketing automation campaign. Integration, segmentation, email design, and the safeguard of some GDPR.
Please check out our Marketing Automation FAQ at the end of this post to help you along the way.
Marketing Automation made easy
Now the really powerful bit. Create a responsive marketing engine based on the behaviour of your customers with our simple to set up marketing automation.
Websand Integrations and API
Email marketing is impossible without data. Connecting directly to the places you collect data makes life so much easier. Select from the 1000's of business connections through our Zapier partnership or connect to our open REST API.
Integrations can be tricky so if you need help book a call and we'll get you onboarded.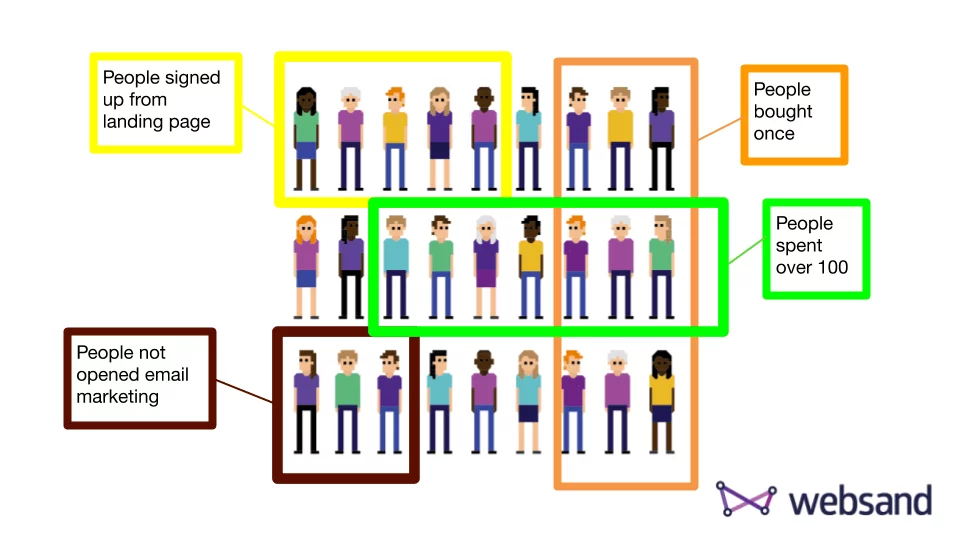 Dynamic Segmentation
Segmentation is the key feature of Websand. Use segmentation to manage your email audience into key groups. Organise your audience based on profile, spending habits or marketing history. Save a huge amount of time and have your customer data managed as you need it whenever you need it.
Create world class email designs
Now the really fun bit, creating your email designs. Websand has a best in class drag and drop editor and marketers love it. No more fiddly HTML, or time consuming image resizing. Just import your images into the mobile optimised editor and drag them around.
Preparing to Send
Before you are able to send any marketing campaign or automation, you need to create a send identity. Here is the process on how to do that.
Dealing with GDPR
Websand has built in a series of features to help you become and retain your GDPR compliance. But remember, Websand acts as a data processor, so please make sure you collect your audience data responsibly.
Frequently Asked Questions about Marketing Automation
Marketing Automation is a key feature of Websand, combining segments and your email designs to send hyper targeted marketing based on the behaviour of your audience.
Putting marketing automation in place can be a bit daunting, but no need to worry. We recommend you start slowly so you get a feel for the automation process. After you've scheduled the first and get comfortable then add more automation campaigns. You'll become a master of automation in no time.
It's normal to have questions so here are some of the most regular questions people when they create marketing automation. If you need more help, simply get in touch.
How can I schedule an Automation campaign?
Websand Automation needs a segment to function, and it's your segmentation that controls who receives the marketing message from your marketing automation campaign. As people join a segment they will be sent an automated message. That can be troublesome if the segment is time based such as retention. In that event, when the segment updates overnight the marketing automation would be triggered. To prevent that you can assign a time to schedule your automation. When assigned, the automation would fire at that time on a daily basis.
Can I delete an Automation campaign?
You can delete an automation but you will lose the campaign history for that automation.
Can I edit an Automation campaign?
You can edit an automation but since people can only be included once for every automation campaign that's not recommended. Rather than editing an automation, it's best to disable the existing automation and create a new one.
If I change the message template what happens to the Automation campaign?
If by editing you mean editing the message, you can edit the message in the template editor. The revised message would then be used in the automation from that point forward.
What happens if I delete a segment linked to an Automation campaign?
If you delete a segment that is linked to an automation, the automation becomes invalid and will stop. Before deleting a segment we recommend that you check if it is in use within an automation first.
Why can't I link a combined segment to an Automation campaign?
You can connect any type of segment apart from a combined segment to an automation.
Will people receive an Automation campaign more than once?
People can only receive an automation once. This rule is based on the name of the automation, so please name your automations wisely.
In some cases, people will never receive an automation. Those people in a segment before the automation is activated will only receive the message if the automation is applied retrospectively within the automation setup. If the retrospective option is not applied, the people in the segment at the time you activate the automation will be tagged but will not be sent the message.
What happens if someone unsubscribes from an Automation campaign?
If someone unsubscribes they are added to the suppressions list and are removed from any future marketing. You can access the suppressions to resubscribe people by clicking on the suppressions button within the Audience tab on the Websand home screen.
How often do the automations trigger?
Only one of the automations is immediate, that is the Welcome Automation. The other automations run on a two hour cycle.
Need help to get started with your marketing automation?
If you need more help using Websand, or you are looking for some more strategic help creating an email automation programme for your business. We can help, so please get in touch.
Email support@websand.co.uk or book some time on the calendar below