Is your email marketing strategy insane?
Albert Einstein described Insanity as doing the same thing over and over and expecting different results.
Does that describe your current email marketing activity? Do you have email marketing fatigue? Are you sending the same message to the same list and getting the same average result?
Maybe it's time for a different approach to your email marketing strategy?
Do you love your email list?
When you've got sales to make and targets to hit, then you'll do all you can to make sure that you hit those targets.
If you are in a B2C marketer using email as a sales tool, you'll have your 'email marketing list'
In your 'email list' contains people that have expressed interest in your business. It might have been a considerable time ago, but perhaps now is the time that they will finally buy something from you. Even if they haven't done so in the past.
Yes, now might be the time. However, if you are sending the same 'newsletter' to everyone on the list, then it's probably no. That's why the average open rates on email are between 18% and 22%.
The fear of missed opportunity
My daughter doesn't like going to bed early. The main reason is she's frightened that she might miss out on something. I think the same is true when moving from a marketing list to a segmentation approach to marketing.
At Websand, we encourage marketers to focus on those customers that are interested and have shown interest rather than the entire 'email marketing list'.
For some marketers that is a big change, the huge 'list' becomes much smaller as those on the list that clearly aren't interested are removed.
Making the change, can cause fear. It's the fear of missing out on that person that might suddenly be interested.
The reality is that you are no longer blinded by the vanity of the 'list'. By focusing on quality not quantity, you'll soon start to see the opportunities within your audience.
For example, in our experience less than 20% of your customers will have bought from you more than once. That's despite you knowing who they are, what they bought and when they bought it.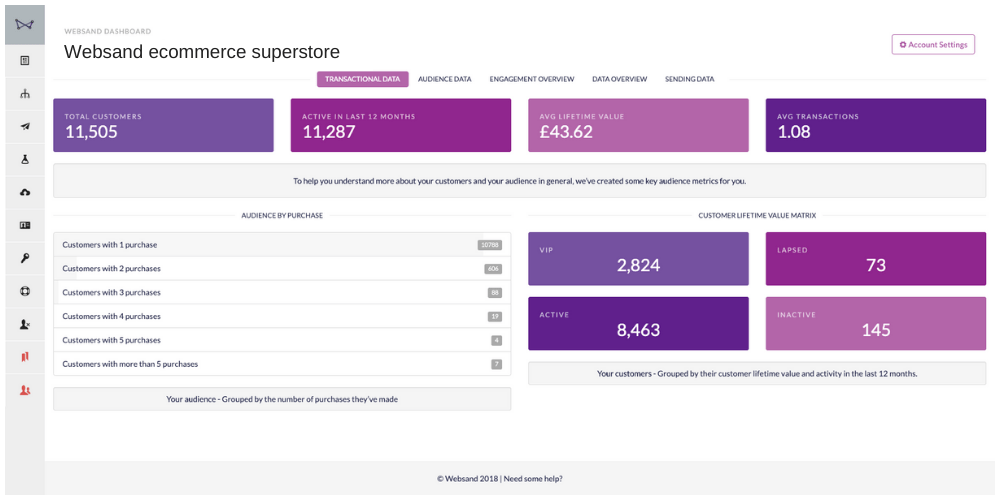 That's why we've built the Websand dashboard around customer metrics. So you can easily see how many customers you really have, and what they've been upto. Whatsmore, that data is all organised and ready to make your email marketing more effective.
Creating new opportunities for your audience
Segmenting your list into new customer groups makes it much easier for you to identify opportunities for your business.
Be that to nurture a prospect to a customer.
To retain your existing customers by focusing on those customers that haven't bought for a while.
Building loyalty by offering special benefits, special edition bundles and flash sales to your best customers.
Or to acquire profitable new customers due to a new deeper understanding of your existing customers.
Applying segmentation manages your customer data into easy to understand groups. Giving the opportunity to understand more about your customers, and be more relevant with your marketing.
Change your email marketing for the better
Moving your email marketing from a list strategy to a targeted strategy can be challenging. But it soon becomes the norm and you'll soon be rewarded with better results.
Identifying segments help you to create relevant content for these groups
Relevant content increases engagement from your email marketing
Increased engagement from your email marketing increases your marketing ROI.
We see this proven everyday by the results from businesses and email marketers that are using Websand.
Embrace change, boost your results and remove your email marketing insanity
If you'd like to move your email marketing lists into an engaged revenue generating audience. We are standing by to give your email marketing a boost. Get in touch and we'll show you how it's done.
It's time to start getting more from your email marketing
Sign up for a free Websand demo and let's show you how to get the best from your email marketing.