Points Don't Always Make Prizes: Build Loyalty with Email Marketing
Have you considered building loyalty with email marketing? When marketers think about building loyalty, they usually think of points. A customer spends money, you give them points. They earn enough points and come back to you to spend them. Easy way to keep customers, right?
Not always. Too many companies issue points without understanding how they work. Or even what they'll do with them. And without a clear end goal on the table, it doesn't build loyalty.
Why does loyalty matter to businesses?
It can cost between 5 and 25x more to capture new customers than selling to existing ones. Building loyalty with those existing customers is cheaper than hunting for new buyers.
And customers expect loyalty programs. 64% of brands saw increased loyalty program membership in 2017. Running a business without offering something in return is unusual in 2019.
But can you build a loyalty program using your email marketing as the foundation? Absolutely. And we'll show you how.
It Starts with Emotions
Emotion is the difference between a customer and an advocate.
A customer buys a product from you. Maybe you're the cheapest. Perhaps you offer the fastest shipping. Either way, there's a simple reason they buy from you. And it's got nothing to do with how they feel about you as a brand.
Trouble is, take that reason away, and you lose their custom.
But an advocate?
They'll travel forty minutes in the wrong direction to visit your store.
Their updates about your products fill your social media feeds. And they bring in a steady stream of new customers because they won't shut up about you.
If someone else offers the same price for less? An advocate still buys from you. Because they're buying into your brand values as much as the product.
Look at Apple.
Their customers could get better specifications on cheaper devices with other brands. But they still pay more for Apple products. Because they're not only buying a smartphone or a laptop. They're buying into the emotions that brand creates in them.
65% of customers say they feel emotionally connected to a brand when they feel the brand cares about them. The same research showed 55% of people liked to feel they were making a positive difference in the world.
Handing out points willy nilly doesn't engage emotion. We've trained customers to expect points on their purchases. And if you sell products that don't create an emotional attachment? You'll struggle to build loyalty through points alone.
So how can you engage emotions and build loyalty with email marketing?
Personalise Your Emails
Customers expect personalisation from their email marketing. That doesn't mean just slamming a merge tag into an email marketing campaign.
By managing your data, you can build loyalty with email marketing and send much more personalised content, such as…
Offer promotions relevant to their interests based on past purchases.
Upsell or cross-sell extra products and services.
Reminding them when repeat purchases are due to run out.
Making recommendations – think of the power of Amazon or Netflix. If you keep recommending things they end up liking? Those customers come to trust your judgment.
Remind customers how they earned their points. Show them what they've spent their rewards on.
Even remind them how long they've been in your loyalty program. If they're behaving like a VIP, then treat them like one.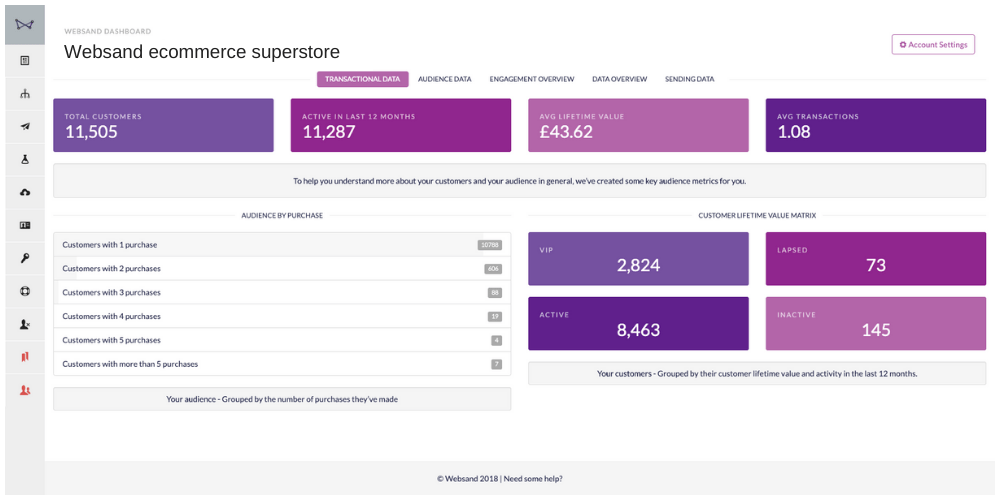 Show You Care
Consider adding a layer of social responsibility to your loyalty program. The Body Shop turns points into money-off coupons for customers. But they also let members of their reward scheme donate that accrued money to a charity. This fits back into the idea that customers like to feel they're making a difference in the world.
It's easy for a company like The Body Shop to offer an incentive like this. Their brand values align with those of their customers, creating an emotional connection. Their email marketing reinforces their environmental and cruelty-free credentials.
Pamper Your Customers
Don't shy away from offering premium loyalty schemes. Look at Amazon Prime. Customers will pay extra for the benefits they receive as a member.
If you can identify extra perks for these customers, then you could be onto a winner. Making the fee annual rather than monthly also reduces churn. And you're more likely to stop that VIP becoming a lapsed customer because they'll spend more to justify the premium membership.
The advantage of this is you can move away from the points-based systems. Points don't always make sense, particularly for customers that don't spend often with the brand. A customer might earn points for their first buy, but then they forget about them or never see the value. Offering small but regular rewards is a better option to bring them back.
And you don't want to be that brand that sends "Hurry! Your points are due to expire!" emails in the hope it'll spur customers to spend.
That kind of marketing runs counter to automation and permission marketing. You should only send the right message at the right time for the customer. Expiring points emails are only the 'right time' for you.
Scale Up Your Loyalty Program
Why stop at just one level? Look at shoe company TOMS run their Passport Rewards Program. Customers earn points as an Explorer until they earn 200 points. Then they upgrade to the Trailblazer level, and they get free shipping for a year. Members get discounts, anniversary gifts, and early access to new products.
Scaling up your rewards based on spend is a great way to encourage spending. We talked about VIP customers and how you can encourage active customers to become VIPs. And how you can keep VIPs spending. Well, this is a great way to do both.
And if you're worried your products aren't 'regular' buys? Get creative. Beauty brand Tarte offer Tarte Rewards. Customers don't only earn points on purchases. They also award points for other actions. Like inviting friends to join, sharing content on social media, or opening emails.
Stop Using Programs
This sounds controversial, especially in a post about building loyalty. But it's about building loyalty with email marketing, so who said the only way to build loyalty was with a dedicated program?
Give customers an amazing experience and useful perks with their first purchase. And then offer benefits every time they shop with you.
This works well for subscription-based companies. It's harder for customers to generate 'points' when the subscription is regular. And the customer often chooses the frequency.
Look at a company like Graze. They offer extra incentives to customers. Discounts, mystery snack gifts and free postage on multi-packs all work. They encourage customers to buy extra snacks, on top of their regular snack boxes.
These approaches work when you're on top of your data. You know what to recommend because you know what customers like.
Surprising them with more of what they like is a great way to earn their loyalty. Because ultimately – loyalty is something you can't buy.
Take Care of your VIPs and They'll Take Care of You
You can identify your VIP customers in your Websand dashboard. They're prime candidates for any loyalty scheme or offer you might create.
Track their spend after they join to see if it increases their spending. Or give them an affiliate code and see how many new customers they bring in.
Whatever you do, track its progress to check it's the right loyalty offer for your brand.
We'd love to help you boost engagement and build loyalty with email marketing. If more sales and happy customers sounds appealing, get in touch today.
We're standing by!
It's time to start getting more from your email marketing
Sign up for a free Websand demo and let's show you how to get the best from your email marketing.