The Websand Approach to Email marketing for Shopify
Websand is built to help e-commerce businesses understand more about their customer data. Giving e-commerce marketers the insight and tools improve their email marketing performance and generate more sales.
We strongly believe that the secret to creating awesome email marketing is making it easy to understand the customer data. And we are delighted to say it's a belief that has been proven to be correct time and time again.
Introducing 304 Clothing
Here's a recent example of how we've helped 304 Clothing, an UK based urban streetwear brand.
They are a Shopify e-commerce business and we've helped them implement a sales strategy that doubled their open rates, more than tripled their click through rates, and contributed towards 17.5% growth in a single quarter.
Over to Jon Hutchings, Head of Ecommerce at 304 Clothing…
"The whole experience from end-to-end is more personal. Websand quickly understood our brand and the support we receive is second to none. We never had this understanding, flexibility and support with Mailchimp. To have someone on the end of the phone, email and/or SMS, makes a huge difference to their overall level of service."
The challenge
The team at 304 Clothing wanted to improve their email open and disappointing click through rates. Marketing efforts weren't generating results. And they were spending too much time manually importing data, slowing productivity and impacting ROI.
So the team brought in an Ecommerce Manager, Jon Hutchins, to help. Jon assessed their set up with Mailchimp and noted that customer segmentation was extremely limited.
Also there was no connection to their transactional data in Shopify. Hence, the team couldn't target customers with the right message at the right time.
That's when the team turned to Websand.
The solution
Improved understanding of their audience and customer value
Over to Jon Hutchings, Head of Ecommerce at 304 Clothing.
"It was quick and easy to set up with Websand. They cleaned our database and halved the number of records. And as soon as we connected to the Websand platform, the dashboard analytics allowed us to see our customers' transactional data, in a way we weren't able to previously.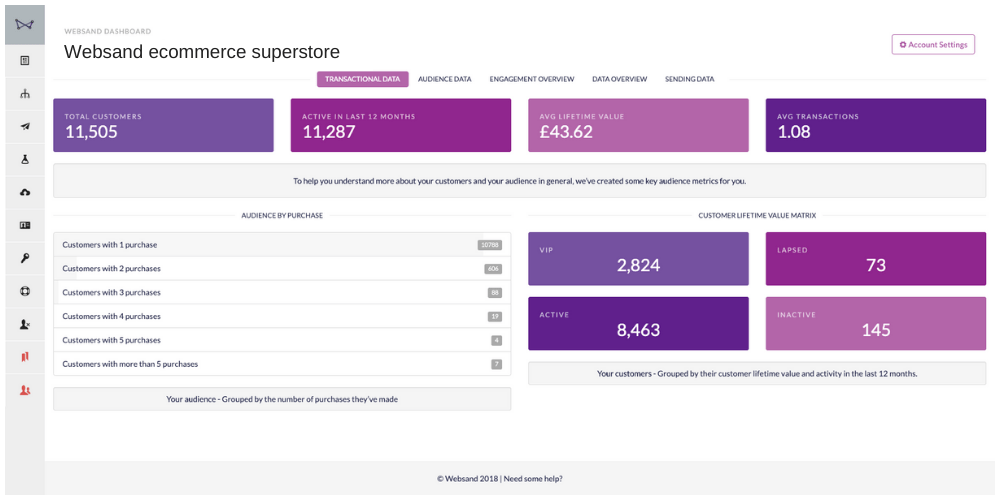 Suddenly we had a clear line of sight into our customers' lifetime value, purchase history and average order value; including when they last bought, and opens and clicks on specific email campaigns".
More targeted email marketing
"So in a very short time, we were very targeted. We created 15-20 different audience segments so we could hit the right people with the right message, instead of emailing those who weren't engaging.
We now generate more content (5-6 times more on a weekly basis), more than doubling our open rates. Our Birmingham and Manchester offices collaborate daily, and we're able to pool shared content via Google Drive. This automatically drops it into the Websand system to populate our email campaigns."
The platform has also enabled 304 Clothing to carry out more email testing. The company was giving out too much product and pricing information before—the main reason click through rates were low.
Better engagement with their audience
"By creating a series of four automated emails for new sign ups, we can tell our story and share our brand history", Jon notes. "The communications created a process to share our story. As a result it's increased engagement and driven more sales."
The team also recently created a loyalty scheme with the help of Websand. This has saved £450 per month on consultancy fees while driving sales through existing customer data.
The results
Show how you can grow your Shopify store through strategic email marketing and automation.
56% uplift in returning customers, huge increase in customer retention revenues
Boosted engagement. Doubled their email open rate and trebled their click through rate.
Streamlined multiple internal business processes saving a colossal amount of admin time
Welcome campaigns boosted lead conversion
An increase of 16% in average order value
Revenue increase of 17.5% over a single quarter
Time to improve the email marketing for your Shopify site?
In our experience, platforms are only as good as the marketing plans that you've created and how you use the technology to put your plans in place. Websand is a SaaS platform but that doesn't mean you are alone, we can help you every step of the way. It's been a pleasure to work with 304 Clothing and help them on their journey.
So, if the challenges explained in this Shopify email marketing example seem familiar and you are in e-commerce, we'd love to help you grow your business.
If you'd like to arrange a chat, simply book a call or complete the form below and get in touch.
It's time to start getting more from your email marketing
Sign up for a free Websand demo and let's show you how to get the best from your email marketing.