Make sure you have an Email Marketing Strategy
To get the most from your marketing budget, now more than ever you NEED an email marketing strategy.
Email marketing is getting more and more sophisticated. It's not just about one off newsletters anymore. It's about data driven marketing. Sending targeted, highly personalised emails based on the behaviour of your customers and prospects.
So it needs careful thinking and consideration to keep you ahead of your competition, and continue to grow your business.
Email marketing is your marketing channel
If you are running a marketing department or team, you'll have an overall strategy for your marketing and that will be underpinned by separate plans. From a digital perspective these will include strategies for PPC, your Search, and for your social channels.
Unlike PPC, Search and Social, email marketing is YOUR marketing channel. You hold the data, you set the schedule, and it's normally to a fixed budget.
So let's say Google changes their algorithm, your email marketing is unaffected. Facebook decide that your page is not longer suitable, your email marketing is unaffected.
But do you have a email marketing strategy? If you don't you need one. If you have then perhaps it's time to take things to the next data driven level?
The Hand of Email marketing
Now, you know you need to use email marketing. But you're not necessarily sure how.
After working with Websand clients, we've learned that a lot of effort is often put into social media marketing instead. For some companies, emails are sometimes only ever sent to boost sales.
With such an ad hoc approach, it's easy to miss out important elements.
As we said earlier, Email marketing allows you to control your own marketing channel, so you could say it's in your own hands.
Which is quite fitting as we've got a list of five points you need to consider when creating or revising your email marketing strategy.
Let's call it the "Hand of Email", and let's start off with the thumb.
Your email marketing objective
Ask yourself; what is it that you really want to achieve? Without an objective, your emails aren't as efficient as they could be.
Objectives get overlooked, or they're regarded as a 'one-off' in an email strategy.
But like the thumb supporting the hand so it can grasp things, the objective should support the rest of your strategy.
But remember, you're not just sending a single message. To make sales, you often need a whole series, campaign or sequence of emails. Asking for the sale might only happen at the very end.
You'll need to work backwards from that endpoint to design your sequence of emails. And that endpoint is dependent on the objective for that campaign.
You're going to need more data so you can follow the marketing process. If you look at a company like Amazon, you can see email marketing done right. You don't even need to own something for Amazon to email you more product recommendations, based on your wishlist.
Believe it or not, you have access to as much data as companies like Amazon. You're just not using it.
You can use that data to determine your objective. After all, once you understand what your customers have bought, you can communicate with relevance.
Strategic use of email marketing
So you've developed an objective. But how are you going to achieve it?
Remarkably, only 54% of marketers think analytics are crucial for creating a good customer journey.
But you're in the other 46%. You want to use email properly. You want its full potential.
So you need to be able to understand what data you collect, where you collect it, how you collect it, and what opportunities it presents.
But that's really difficult. You might not always be able to get access to the data you need. Thankfully, existing e-Commerce sites like Magento, WooCommerce or Shopify should be able to provide customer data around who bought what and when.
You might be able to get data around what customers didn't buy. Maybe they filled their basket and forgot to checkout. It could be a good idea to remind them.
Overall, you can look at the frequency of purchases and the spend total of each customer. That should help you drive your email strategy forward.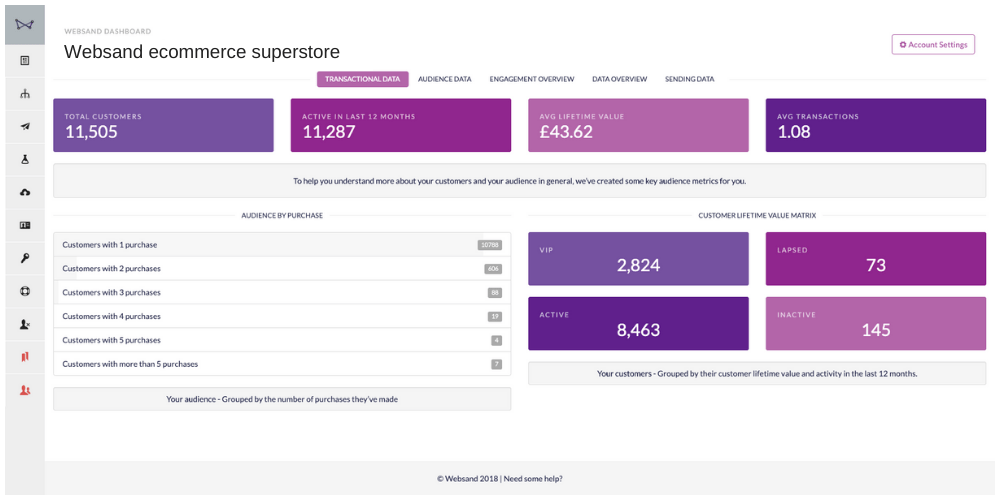 Communication
Otherwise known as content. This is what you actually send and, more importantly, where you make the deal.
Stop and look at your email strategy. What message are you actually sending to a subscriber?
And how do you drive them in the direction you want them to go? That might be towards a sale, a product launch, or some content you've published.
You need to go back to your objectives. Design a path for them using your email marketing.
The problem with email marketing as a communication is that it is sometimes regarded as cheap.
The focal point of email marketing is often list-driven, not individual-driven. But that focuses on quantity of subscribers – not quality.
And yes, having more subscribers is often a goal. If so Marketing automation will certainly help you to generate more leads. If you use marketing automation, you could increase your sales pipeline contribution by 10%.
But to develop better communication, you need a shift in mindset. It's not about how many people you send your message to. It's about who you send it to. It's actually okay to send that one message to just a handful of people if it will get the right end result.
Remember that email is the individual marketing channel that you control. You're not beholden to social media algorithms.
Whatever platform you use, you control the schedule.
Scheduling your email marketing
There are three questions you need to ask yourself before you send an email.
First – is the message correct for the audience?
Second – which part of the audience is it relevant for? You don't have to send the same message to everyone on your list.
But third – do you consider the context of your message?
Context and scheduling go hand in hand. Paying attention to scheduling means thinking about when you need to send the message to the customer so it's actually relevant to them.
Sending a 'You haven't bought from us for 6 months' message when they've recently bought something obviously makes no sense. But if you send that message and they haven't bought for 6 months then that's perfectly in context.
Using marketing automation to schedule these messages, mean that they are only triggered when the message is in context to the behaviour of the user. Creating a 'flow' of marketing messages that are in context and drive real engagement.
So when you're putting your strategy together, think of the key touch points you'll need to drive the strategy. Remember the objective from earlier. You need data so you can send relevant communications.
And relevance also depends on the schedule of the campaign.
Understanding
And finally, your strategy rests on the ability for you to understand who has done what and when, and has it worked?
To continue the metaphor of the hand, do you grab your strategy and continue, or let it go?
A lot of pundits put their emphasis on reporting. But those reports either make no sense or only give half of the picture. You need to be able to tell if your strategy met your original objective. If it did, continue. If it didn't, analyse. Why didn't it work? What impact has that had?
The 80/20 Rule holds a lot of relevance here. And in the context of email marketing, that means 80% of your email goes unopened. So what do you do? You need to make sure the 20% that do open your emails find the content relevant to them.
If you're an e-Commerce brand of a decent size (we're talking a turnover of at least 6 figures), then 80% of your business comes from just 20% of your customers. Knowing who they are can revolutionise growth – because you market directly to them.
And that's who your reporting should focus on. Websand have rebuilt our product around one key metric – the customer lifetime value. Growth and stagnation are dependent on that one metric.
Growth doesn't come from new customers. Your business is built on repeat business and word-of-mouth. So your marketing budget should invest in your existing customer base.
Don't plough your marketing budget into millions of keywords and SMM campaigns.
Reward your repeat customers and make them your advocates. They'll sell your business for you.
Don't talk to the Hand – take it
You're clever enough to understand that email marketing and automation is part of the mix you need. And email is still the most predictable form of marketing.
For every £1 you invest you should get between at least £20-25 back. According to the DMA Email Report in 2015 the actual ratio was $38 for every $1 invested in email, and it's increased since then! Take a look around the internet, it's highly unlikely you'll get that ROI anywhere other than email marketing.
Grab your opportunities
So whether you're a diehard user, a dabbler or the creator of a newsletter, then more focus, more effort and the right tools can unlock massive growth.
You already have the right ingredients at your fingertips, but maybe you don't have the right recipe yet.
If you want any further help, we're standing by to help.
Click here to sign up for a free trial, we've got platform you need to put your email marketing strategy in place and we are standing by to help you revolutionise your business.
P.S. Special thanks to the marvellous LJ Sedgwick for helping write this blog.
It's time to start getting more from your email marketing
Sign up for a free Websand demo and let's show you how to get the best from your email marketing.