Consider customer abandonment rather than cart abandonment?
You can't read about email marketing without coming across cart abandonment. If you use online shopping yourself, you'll no doubt have been on the receiving end. Think of those "Did you forget something?" emails from Amazon.
It's a lot more common than you might think. On average, customers abandon a huge 69.23% of shopping carts before a transaction is complete.
So you can see why those cart abandonment emails are so attractive to send. They're triggered when customers put something in their cart but don't get to the checkout.
So sending a cart abandonment email is like the haggler in the market running down the street after the customer.
It sounds unappealing – desperate, even – but it has its place. Half of those emails do get opened, so they're worth sending.
But what if we told you there was another way of looking at the problem? A new way that would set you apart and turn your customers into your biggest fans?
This new way would mean that customers would love your stuff just so much then it would never even occur to them to abandon their cart.
It's not rocket science. It's not even GCSE foundation level science. You just need to change your mindset.
So instead of thinking about cart abandonment, you think about customer abandonment.
That's right. Your customer is far more valuable than the contents of their cart.
Think about it. You pour all of that effort into your PPC advertising. Then there's the carefully curated social media posts to generate a buzz around your product. And your content marketing is designed to nurture your customer so they take interest and then they take action.
Your marketing efforts turn that prospect into a member of your fully fledged customer gang. If you want to have a secret handshake too, then we won't judge you.
If you put all of that effort into acquiring them, why would you abandon them? Exactly – you wouldn't. So instead of sending emails reminding them of the products they didn't buy, you send them emails based on their interaction with you to get them excited about products they will buy.
Do you focus on customer/business fit?
Marketers talk a lot about product/market fit. But the fit between the customer and your business gets ignored, which is a shame because it's not the same thing at all.
Focusing on the customer/business fit treats your customer as an individual, a living, breathing person at the other end of your business funnel.
And because they're living people, just like you or me, we can think about that business/customer fit using the language of human relationships.
The One Night Stand
Some businesses are one night stand businesses. Customers are really only going to buy from you once and that's fine. If that's the case, your marketing will focus on acquisition over retention. It's likely you'll have a long lead-time.
Customers with benefits
They buy once, but you've got a range of other services that come into play after the main purchase. You might offer add-ons like warranties or support agreements. Subscription businesses could even fit into this bracket.
The customer makes their purchase decision once, but it's then up to you to keep the relationship strong so it suits both parties. Remember, work to avoid customer abandonment, not cart abandonment.
Holiday romances
These businesses see an intense period of regular purchases, and then nothing. The classic example would be seasonal customers. Think ski-wear in the winter, swim-wear in the summer, gardening tools in the spring. The challenge here is to maximise the opportunity when demand is high, whilst continuing the relationship when seasons change.
If you have a holiday romance business, then you'll need to know your customer profile inside and out. It helps you find the opportunities that exist when your core product isn't desirable. And it takes us right back to our 'customer abandonment' mindset. If you abandon them in the off-season – then they'll abandon you too.
The dating game
The definition of a customer according to the Oxford Dictionary is "a person who buys goods or a service". So if you are offering goods or services that aren't seasonal, subscription based, or major one-off purchases, then your relationship fits into the 'ordinary' customer bracket.
So in relationship terms, you've had at least one encounter. For some, your business is legendary and your relationship is rock solid. Think of those diehard Apple or Nike customers. For others, there was no spark, no connection. The customer swiped left instead of right and went in search of other offers.
Break Ups
Break ups among people are (hopefully) pretty obvious. But in business, especially e-commerce, it's harder to tell. If no contract has expired, and no subscription has ended, then you might not even know a customer has left. That's unless they call you out of the blue to tell you they are leaving.
Break ups will happen and your business will experience customer churn. The trick here is to identify the trends and put in preventative measures to stop the break up before it happens.
Having a fantastic product/service/offer is a critical part of this. Teaming that offering with a strong email marketing strategy is another way to focus on customer abandonment, instead of cart abandonment.
But a lot of the gurus won't tell you that sometimes, the business/customer fit just doesn't work.
We touched on this earlier, but what this all boils down to is the big question. When is a customer really a customer for your business?
Is after one sale?
Two?
Three?
The answer depends on a lot of factors. It will vary depending on what you sell and who bought it. But it's also affected by what they bought, when they bought it, how much they paid for it, and where they came from in the first place.
As there are so many variables, your sensible bet is to base your yardstick on how many times you can expect someone to buy from you. Loyalty marketing uses the term 'share of wallet'.
That just means if you took all the money someone had to spend on the goods or service that you offer, how much of that would they spend with you?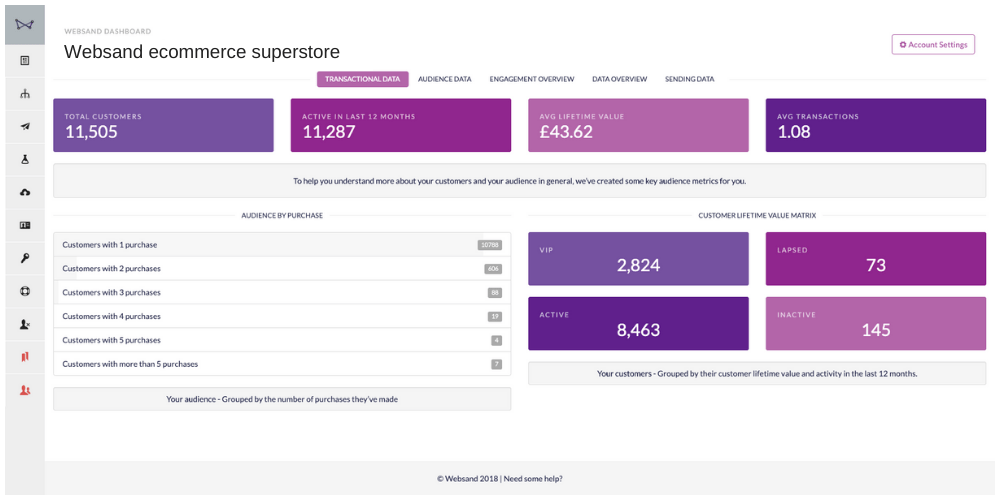 Are you measuring success against the wrong metrics.
Lots of people will compare the cost per conversion against the cost per customer. And measuring how much someone costs to acquire is a useful metric. For people selling online, it's pretty easy to measure with the correct software, and it's usually balanced against your average basket value.
So you can gain a good idea of the cost of acquisition vs the amount of revenue someone will generate from a purchase. That's particularly useful if you're a One Night Stand business. You don't want to spend more acquiring a customer than they're going to spend.
So far, so good.
Let's go deeper. Unless you have a strategy that says otherwise, you don't want to get into a New Order Blue Monday situation where you lose money with every sale.
So let's assume you've already got something sensible in place, and you're making sure you make profitable sales. Of course you're sensible, you're reading this blog.
But the next step is understanding how much a customer is worth to your business, that's the total lifetime value.  If every customer you acquire will purchase at least twice from you, then that could change how you approach your acquisition strategy.
Once you understand who your best customers are, and more importantly where they came from, you have a big sign pointing to where you should focus your acquisition efforts.
The 'where they came from' is so important. It's also often overlooked by overworked email marketers who just want to know that they have subscribers. Who cares how they signed up, right?
Wrong.
Once you know where they signed up, you know how they found you. So you know precisely which platforms are worth your efforts – and which aren't.
That's one of the reasons we've made the source of a subscriber a mandatory field when we sign customers up to our software. You'll also find it within our WordPress subscriber plugin.
So if you want to get started on your quest to avoid customer abandonment and build your army of raving fans, click here to sign up.
BTW – you need to record where people sign-up anyway as part of your GDPR compliance, so that's a rare example of a true win-win!
This post was brought to you by Saul Gowens and LJ Sedgwick. Along with an overriding belief that your customers are free people, not numbers.
It's time to start getting more from your email marketing
Sign up for a free Websand demo and let's show you how to get the best from your email marketing.