Post updated 1 May 2020
Using PPC Strategies for email marketing
Embrace your own marketing channel and gain a competitive advantage by using your PPC strategies for email marketing.
Every successful business is based on a plan, and if you are using PPC advertising to generate sales you'll a PPC strategies that fits into your overall marketing plans. But isn't not one PPC strategy it will be a collective! You'll probably have a PPC marketing strategy for every product, service or potential search term your audience could use when searching for something that you offer.
In digital terms PPC is a key component of generating leads, it's an easy way of generating a relevant audience by providing them what they are looking for.
However, PPC is limited.
To what the potential new customer is searching for.
The profile information you can include in your targeting.
And to your budget – and if you are in a competitive market, budgets can get eaten very very quickly.
That's the bad news. The good news is you've probably got all the customer information and knowledge you could ever need to drive growth. What is even better news is you have the data, and you have control of it. It's yours, so you aren't restricted to a keyword budget.
This magical data is your customer data. The data you collect whenever you make a sale. Of course your prospect sign up information is also really important, but the customer data is where the magic hides.
Get the most from your customer data
The customer data you collect through every sale and interaction is a huge asset to your business. But are you getting the most from the treasure trove you've been collecting?
If you think about it, on adwords, Google is using the search data they collect everyday, organising it and then selling you access to digital real-estate when someone enters the magic search term that meets your marketing criteria.
With marketing automation using systems such as Websand.  You can manage the customer data and interactions you collect.   Organise it into groups that add value to your business, and then communicate to those groups.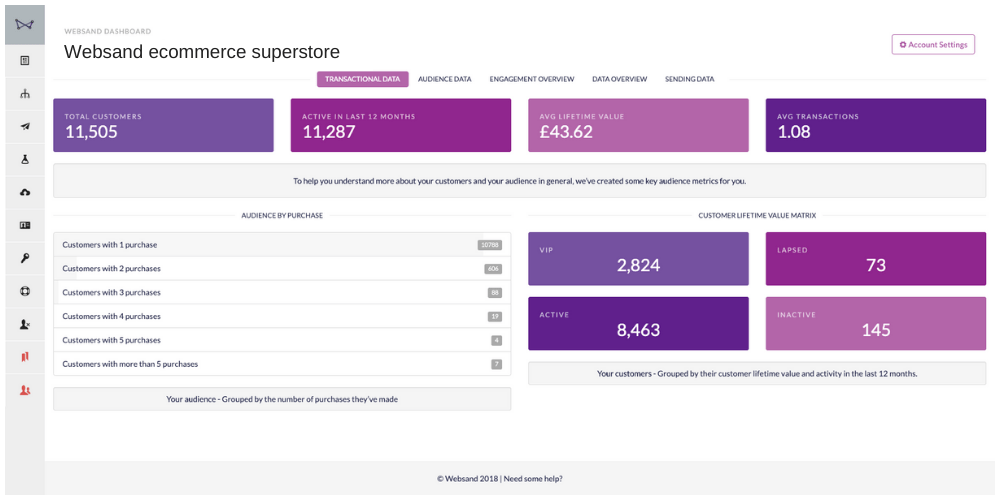 It's just like creating your own pay per click marketing channel – and one where you can put your existing PPC strategies into play.
Applying PPC strategies for email marketing by using Marketing Automation
PPC works because it reacts to the behaviour of the people looking for search terms.  To put PPC strategies for email marketing in place, you'll need to adopt marketing automation.  
With marketing automation, such as our own Websand platform, you'll have the tools you need to apply the same strategies you would apply to PPC, but to your own customers.  Without a Marketing Automation process, putting PPC strategies for email marketing would be way too complex to achieve.
For example, if you have a keyword strategy around a specific type of product, then you could create a marketing automation campaign targeted at customers who have bought that product or similar products in the past.
You can even be really clever and link it to the time since they last bought that product (or at least you can using Websand), so the customer behaviour is linked to the typical shelf life of your product or service.
Of course, that's getting really deep. The key to this is getting started by applying very simple PPC strategies to your existing data. Build your confidence and prove that things really work before getting into the more detailed marketing tactics.
Email conversion vs PPC conversion
When you are using your customer data, the only real channel of choice to use is email.
It's email that provides you with a direct channel to your customers. A marketing channel that allows you to generate traffic by the bucketloads every time you send an email communication. That's a lot of friendly traffic that at a far cheaper rate than PPC traffic.
And don't forget this friendly traffic has already been 'qualified', that's customers or sign-ups from your site. So they know who you are and what you do. That's really important as customers are visitors that know how to convert on your site.
The price of a click
PPC is based on the price of each click, irrespective of conversion. Guess what, email also offers the click through option. So we decided to do some investigating.
We've done some analysis on some of our e-commerce clients and a if you conduct a quick review of the cost per click from an email vs the cost per click for a PPC campaign, the email ROI ALWAYS wins.
If you are using email and PPC, try the analysis and measure the conversions through your analytics.
Email spend / number of clicks
PPC spend / number of clicks
This is not to say that email should replace PPC, but rather to point out that every channel has it's benefit.  After all you can't email your audience if they haven't signed up.
Make more money
If you remain unconvinced then all it's probably also worth noting that the average marketing ROI from Email is 4400%.  That's $44 back from every $1 spent (source: Campaign Monitor, and DMA).
P.S. If you are a PPC expert and you are getting that from your PPC then please contact us, and it will be the easiest sale you'll ever make.
It's time to start getting more from your email marketing
Sign up for a free Websand demo and let's show you how to get the best from your email marketing.