Who are your customers anyway?
Two unarguable facts of business are. 1) businesses need to sell to customers and 2) every customer is different.
This blog post focuses on point 2 – the fact that every customer is different, and how recognising that fact can really help you to maximise your future sales to your existing customers.
Every customer is different
Well, three kinds of different. This is a blog post, so I need to use a pretty board brush. Depending on your business your ideal customer will fit into one of three categories.
They buy from us regularly.
They buy from us occasionally.
They just need to buy once.
Each of these categories requires a different marketing focus to make sure that you create the biggest win-win with each of your customers.
Customers that buy from you regularly
Let's define regularly. It's not necessarily I buy everyday, it's more about who your customer would buy from when they have a need for a service offering such as yours. So I'd define a regular purchase to be based around value…if I need to buy X (what you do) I'll buy if from Y (from you).
If you are in a business where customers are buying from you regularly then customer loyalty is the key. It needs to be nurtured and measured.
The key to understanding loyalty is the recency, frequency and spend from each customer. In a fast moving environment – which is typical in this case it can be very difficult to understand who the best customers actually are.
Building customer loyalty
Customer Loyalty is not always about issuing points. Understanding customer lifetime value is a great measurement to use to understand the positioning of customers within your business.
A business rule such as customers that are above average customer lifetime value and have purchased from you within 12 months can be used as an algorithm to identify your best customers.
You know how much these customers are worth to your business, so you can use that as a basis to offer extra value, benefits or rewards to build loyalty.
Think about this in the same way as you would when designing Pay Per Click campaigns, you'll find that really helps as its a similar process, but it's based on your data – not Google's.
Customers that buy from you occasionally
If you are in a business where customers buy from occasionally, then you are selling services or products that are based around a fixed lifetime.
If you are selling to customers using a contract, then you'll have some-kind of service element to your offering.
Examples of this are membership organisations, mobile providers, Software as a service providers (like ourselves), and occasionally marketing agencies. As these purchases are contracted over a specific period of time, then as a marketer you have a fixed end date to work too.
You know when the customer needs to buy again. But then again…so does the customer.
It you are selling products, then the same concept applies. It's just a little more complicated as you need to consider things product by product (but product category is a good place to start)
For example – if you are selling TV's then it's unlikely that someone is going to buy a new TV from you every six months. However, they could be someone that purchases a new TV from you every 30 months.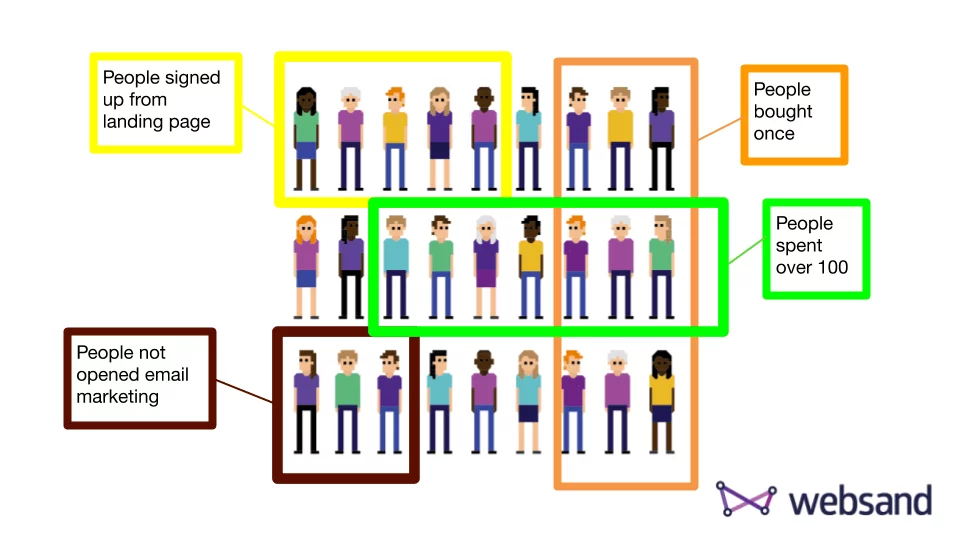 Based on that you could create a retention campaign to TV customers based around an expected future spend date 30 months from the original purchase price.
The same can be applied to any kind of product or service that is seasonal or 'occasional' in nature.
Think of this as your window of opportunity, it's a bit like your own little transfer window for each customer.
Retention focused email marketing
Date driven marketing is a sure fire way to make sure you maximise every opportunity to keep your current customer and encourage them to buy again.
However, it's not as simple as sending an email a few days before their contract expires.
To make sure these customers buy again, the first thing you need to do it make sure you've created value for them. If that's not the case, then you'll need to work very hard to retain them as a customer.
A well known phrase in hotel management is "to make sure that you find out what is wrong when a guest is staying so you can put it right".
You can apply the same to your marketing on occasional customers as part of a retention campaign.
Make the first step in your retention focused email marketing campaign to ask the service questions. Are we any good?
Create a data collection process such as a simple net promoter score question place to make sure you know what they think about your product or service.
And make sure you ask this question at least 3 months before the 'contact end date' so you have time to make a difference and put some value back with some 'surprise and delight' tactics before the next purchase decision date arrives.

From that point date driven email marketing can be used to make sure that the messages you create for your customers at each stage of the 'retention campaign' you send are issued at the relevant time and are personalised based on each customer in the process.
Customers that only need to buy once
If you are in a business where customers only need to buy once, they you are probably selling once-in-a-lifetime bucket list services, huge construction projects, or something that someone will truly only need to buy once.
The latter is very very rare, and I'm open to suggestions on that – the only thing I can think of is when people buy their funeral in advance.
If you think that your business is based around things that people only need to buy once – a massive software system. The reality is that they are probably going to buy more than once, but they will only buy every X years.
Such purchases are likely to be high expense and therefore high risk purchases for the customer, as a result the purchase lead time will be long (whether you like it or not!).
Getting this sale will require lots of interaction and lots of relationship building. So a huge amount of nurturing will be required to build trust and understanding, trust that your offering is just what they are looking for, and your business / team are the perfect people to deliver on it.
Nurturing the one sale through email marketing
So if you are selling a one-off service or product, your marketing is still a hugely important tool. You'll need to focus on nurturing the audience and driving the slowly.
Nurture campaigns to focus on value and brand building to earn the trust, and careful intelligence gathering throughout your campaign to prove that you've got just the think you are looking for.
How to take advantage of the fact that every customer is different
So in summary, based on what type of business you operate will help you define your marketing focus, and help you to make sure that you create the biggest win-win with each of your customers.
They buy from us regularly
Focus on value driven marketing, rewarding your most valued customers and encouraging them to continue to purchase from you.
They buy from us occasionally
Focus on retention, using date driven marketing to send value based, relevant, targeted email marketing to customers based around the (expected) date when they are due to buy again.
They buy from us once
Focus is on nurturing the audience, building trust and gathering customer information to support the sales process.
Putting this into practice
Data and email marketing can be a tricky business, and we are committed to making it easier to apply and understand. If you want more information on how we can help you to take advantage of the fact that every customer is different, then please book a call or get in touch
It's time to start getting more from your email marketing
Sign up for a free Websand demo and let's show you how to get the best from your email marketing.