Welcome back. Your crash course in the applications of automated email marketing continues!
After studying cross-sell and upsell scripture last time, today, we're fittingly looking at loyalty marketing.
What's that, you ask? You didn't think we'd pass up a chance to dust off the Websand dictionary, did you?
We'll kick things off with the basics, then lay out the laws of loyalty marketing. This way, we can help you build thriving long-term relationships with your loyal customers.
What is loyalty marketing?
At its heart, loyalty marketing is an approach to marketing that revolves around the growth and retention of existing customers. Incentives are used to keep loyal customers engaged. Through this engagement, customers are compelled to continue spending with your business.
Note: building customer loyalty doesn't mean launching a loyalty programme. Loyalty is a valuable currency that beats points systems and card stamps any day. By ditching your typical loyalty schemes in favour of a more sophisticated loyalty marketing strategy, you can build sustainable loyalty among your customer base.
Many businesses with a short-term mindset are content with one night stands. Loyalty marketing means going steady with your valued customers and making the relationship worth their while.
Cross-selling and upselling are, of course, two key components of loyalty marketing. But there are countless other ways you can charm existing customers in the long term.
Email is the ideal vehicle for loyalty marketing. This is thanks to the instant access to your customer base and the limitless potential for personalisation. So, today, we're taking a deep dive into some loyalty marketing best practices with email as your catalyst for engagement.
Let's take a look at how to show your loyal customers some email love.
Bring new buyers into the fold
From the moment a first-time customer buys with you, the window of opportunity for your loyalty marketing efforts has opened. Now's your chance to convert this one-off purchase into a long and lucrative relationship.
First off, onboard new buyers with a friendly and engaging welcome email. This first transaction may have been a simple exchange of goods for money. The next contact you have with the customer, however, will set the tone for the rest of your relationship. Will it be a fleeting encounter or the start of a beautiful friendship?
You can go one step further with your welcome email to make an emotional connection with customers from the outset. Seize this opportunity to share your brand's ethos. Prepare customers for the feast of perks they can expect as a member of your customer base.
Mind your manners
On top of the welcomes, there are also the thank-yous to take care of. Showing your gratitude is vital to making customers feel valued rather than disposable.
These emails can be as matter-of-fact as a simple 'thanks for shopping with us' or more multipurpose than that. It all depends on your strategy. A more sophisticated thank-you email might include a future discount on their next purchase, or hot tips on related products they might like.
Naturally, you'll want to avoid an aura of self-interest in your thank-you emails. Yes, even if these discounts or product recommendations are, ultimately, incentives to buy again.
Loyalty is earned, not asked for.
So, mind your Ps and Qs and make sure your thank-yous feel grateful rather than expectant.
See customers, not shopping carts
The key that unlocks loyalty marketing is respect for your customers. These shoppers are discerning, multifaceted people, each with their own unique set of buying criteria. They are not numbers on a spreadsheet or faceless drones you can flog any old product to without ample incentive.
By seeing your customers as more than the revenue they can bring to your business, you can get online carts filled time after time. Personalisation comes in here, which is made possible through automated email marketing.
By learning what products your customers are buying, how they respond to your marketing communications and which offers and approaches strike a chord, you can build loyalty. It's only by embracing their individual decision-making factors that you can reap the rewards in the form of revenue.
Study through segmentation
To generate the data you need to get to know your customers on a deeper level, segmentation should be your first port of call.
Sculpt your mailing list to include subsets of different customer types. This way, you can make sure each and every customer of yours is given tailored treatment.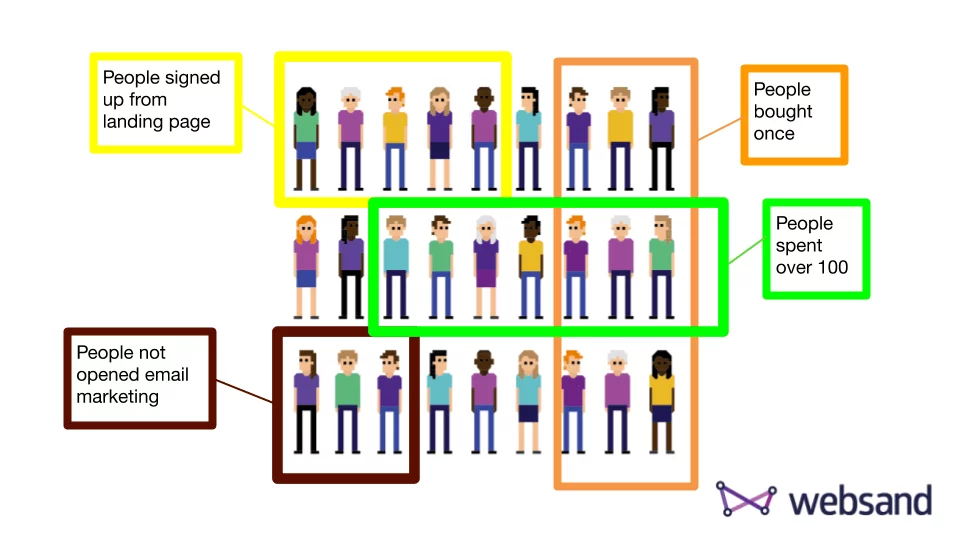 For example, you may find there's value in having an audience segment for customers who've converted off the back of a limited-time discount. This would suggest they may be open to similar offers in future.
Alternatively, some users may be receptive to cross-sell and upsell recommendations. It'd be a shame not to have them on your contact list the next time such a campaign rolls around.
Forget shots in the dark. Leave the scattergun approach behind. Personalise the delivery of your email marketing campaigns to build loyalty by showing the right offers to the right customers at the right time.
Make sure loyalty pays
Your loyal customers are worth more to you than the money they've spent with you thus far. Their loyalty makes for a considerable customer lifetime value – and that's not to mention the added value that comes with the chance of referrals in the form of their friends and family.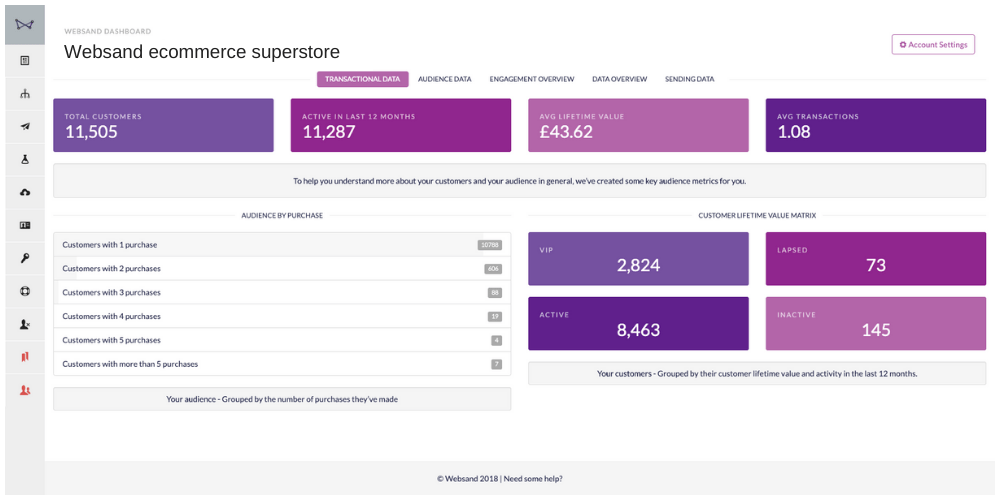 Don't lose sight of what your faithful, long-time customers mean to your business. Make sure the rewards for their loyal custom are made clear to them. Perks for repeat customers could include VIP rewards such as priority access to online or in-store sales, exclusive discount codes or unexpected freebies.
Whatever shape they take, these treats should be worth having – and it should be crystal clear that they've earned these rewards as a result of their loyal custom. They need to know to keep spending to continue reaping the rewards.
Go beyond buying incentives
If there's always something in it for you, even the best-intentioned buying incentives can become a turn-off for loyal customers. Every now and then, you'll need to give your customers something they can enjoy or make use of without spending their money with you.
One popular customer perk that takes commerce out of the equation is exclusive access to entertaining or useful content. From informational guides and resources to engaging image and video content, you can give back to your faithful customers by creating unique and valuable digital content just for them.
As always, make sure the exclusivity factor is clear. If the lucky recipients of this content don't know they're part of the privileged few, your gratitude will fall on deaf ears. Throw some acts of kindness into the mix along with any incentives to buy and make sure your customers know exactly what they've done to deserve these goodies.
Give them the royal treatment
At the end of the day, your customers have all the power. If they feel like they've received a substandard service, or they're turned off by the brand experience that comes with buying from you, they can ghost your email marketing efforts or, worse still, unsubscribe altogether.
This doesn't necessarily mean you should bend to their every whim, but it does justify giving them the royal treatment they may need to feel valued. One way many ecommerce brands surprise and delight their audience is by treating every customer to a tailored birthday email – complete with well wishes and, you guessed it, an exclusive discount redeemable on their next purchase.
As with all other aspects of automated email marketing, knowing your customers is crucial here. It's only by collecting and harnessing data on the individuals who make up your mailing list that you can turn this attention to detail into online sales.
Remember: loyal customers aren't just for Christmas
Loyalty marketing is an ongoing effort. There's no place in email marketing for a one-off loyalty-focused campaign, as loyalty endures. It isn't an on-off switch.
Every business under the sun sees sales peaks and troughs over the course of the year, though the timing of these peaks and troughs may vary. This means there are some seasons when your loyal customers will spend, spend, spend of their own accord with little need for intervention on your part. There are others, though, when action is needed.
Building year-round loyalty marketing campaigns, with tailored messaging and offers for each season, will help you enjoy the enduring benefits of customer loyalty whatever the weather.
Loyalty marketing works with the help of automated email campaigns.
Get your free 14-day trial of our email marketing automation software to leverage customer loyalty in the name of revenue – and customer relationships that mean something.
If you want to know more, book a call on the calendar below.
Until next time – we'll see you again for part 5.